NBC 29 - TV
Harris Teeter Coming to Crozet
Reported by Christina Mora
September 21, 2007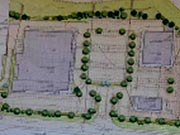 Crozet has a new grocery store coming to town. The groundbreaking for the newest Harris Teeter took place Friday morning at its future site next to Blue Ridge Builders supply on Route 250 West.
Owners of the land and the city say this project has been in the works for 20 years. Signatures from people around town finally got the project started.
Harris Teeter is set to open in late 2008 or early 2009.